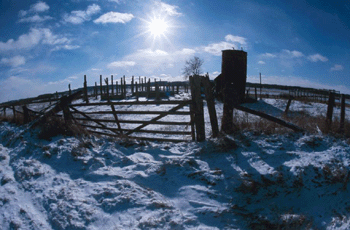 Welcome to Bishop Radiant Heating Systems.

Bishop Radiant Heating Systems has specialized in gas fired infra-red heating systems
manufactured by Combustion Research Corporation, for over 30 years.
We can provide proper selection of infrared heating equipment, HVAC contractor and Equipment design, for most any application. Give us a call, or choose one of the many midwestern contractors we work with. Contractor selection, equipment sizing and tube heater placement, all play a role in getting the most out of your infrared heating system. Get rid of the inefficient heaters you have, start saving energy today.
Infrared radiant heating systems provide more comfort and greater efficiency than forced air unit heaters and conventional heaters.
Reduce your heating bills now!!
Have infrared tube heaters installed, and start realizing the savings for years to come.
Omega II Radiant Heaters
This unit pictured is available in lengths from 10' to 80'. It has BTU ranges from 40,000 BTU up to 200,000 BTU. Replacing a unit heater of same BTU, can save 30-50% fuel consumption per year. It also can provide better and more even heat distribution.
This unit is one of the Reflect-O-Ray vacuum radiant heating systems that can be designed for your work area. These systems can be linked together, or single units. Engineered Designed Systems by Combustion Research Corporation. Vacuum Vented Radiant Heating Systems. "The Original Dry Tube System". The first and still the best non-condensing vacuum vented system. The Reflect-O-Ray® EDS 3.5 system is custom engineered for each application.

Call one of our representatives for an on site visit, you'll be glad you did.